Eightcap review: detailed overview of costs, tools, and more
Author
Enrique Valls
Enrique holds the position of Investment Manager Europe & Latin America at Rankia. He has been investing in the stock market for over 12 years and likes to invest in large companies at a good price using the "52-week low" method. He buys to th...
Full Bio
Eightcap is a recognised CFD and forex broker that has received industry awards. They offer traders access to many financial instruments within a regulated environment, providing attractive trading conditions.
In this Eightcap review, we will explore what EightCap is, how it operates, its regulatory framework, available products, supported markets, commission structure, trading platform, customer service, reviews, and other essential information to help you get started with trading on EightCap.
About Eightcap

EightCap was established in 2009 and is headquartered in Melbourne, Australia. EightCap is primarily a forex broker, but you can also trade other financial assets via CFDs, including commodities, shares, and indices.
It's also worth mentioning their demo account, which allows you to practice trading. They offer two types of accounts: Raw, tailored for experienced users, and Standard, suitable for beginners. Additionally, they provide two trading platforms: Metatrader 4 and Metatrader 5.
| | |
| --- | --- |
| Regulation | ASIC, CySEC, FCA |
| Minimum Deposit | £100 |
| Inactivity Fee | No |
| Withdrawal Fee | No |
| Products | CFDs (mainly forex, but also commodities, indices, and shares) |
| Demo Account | Available |
Is Eightcap safe?
EightCap is a safe and regulated broker. While it is not publicly traded on the stock exchange, it operates under a multi-level regulatory framework.
For the Australian market, EightCap is regulated by ASIC, the Australian Securities & Investment Commission. In the UK, it is regulated by the FCA, the Financial Conduct Authority, which is a financial regulatory body based in the UK. Additionally, it is regulated by CySEC, the Cyprus Securities and Exchange Commission.
Products available on Eightcap
EightCap provides various investment opportunities through its trading platform. You can engage in forex trading with access to many currency pairs (major, minor, exotic), and cryptocurrencies, but also stocks, indices, and commodities.
It's important to keep in mind that CFDs on crypto are banned in the UK. If you want to trade crypto, have a look at our best crypto brokers article instead, which lists multiple brokers that provide access to crypto in the UK.

Eightcap Group Ltd is FCA authorised and regulated and offers CFD trading on over 600 markets
across forex, indices, commodities, and shares. Eightcap's UK entity is the only dedicated, specialist
TradingView broker in the UK, providing a tailored product experience to get the most out of trading
via TradingView.
Markets to trade with EightCap
At EightCap, you can trade across multiple markets using CFDs. This includes major and minor forex pairs, popular commodities, and widely followed indices. The majority of CFDs available are related to the United States and Australia.
Commissions and accounts with Eightcap
When it comes to commissions, EightCap offers two types of accounts, each with distinct commission structures. These accounts cater to different types of traders. The two account types are the Standard account, suitable for beginners, and the Raw account, designed for professional and experienced traders. Both accounts require a minimum deposit of £100.
The main difference lies in commissions:
The Raw account has a commission of £2.25 with a minimum spread of 0.
The Standard account does not charge commissions but compensates with a minimum spread starting from 1 pip.
In both cases, the minimum transaction size limit is 0.01, and there are no inactivity fees, which is a positive aspect as many brokers impose such fees nowadays.
Eightcap platforms: MT4, MT5, and TradingView
EightCap offers three platform choices. The first is Metatrader 4 (MT4), a versatile platform allowing you to trade FX, indices, and commodities on both mobile and desktop devices. MT4 offers numerous trading, analysis, and investment tools, including 9 timeframes and 30 pre-installed indicators.
The second option is Metatrader 5 (MT5), which offers 80 pre-installed indicators, and tools in 21 timeframes, and is a reliable platform accessible from mobile and PC.
In addition to MT4 and MT5, EightCap also provides access to TradingView, a popular charting and trading platform used by many traders for its robust technical analysis tools.
Overall, EightCap offers a range of products, markets, account types, and platforms to cater to a variety of trading preferences and experience levels.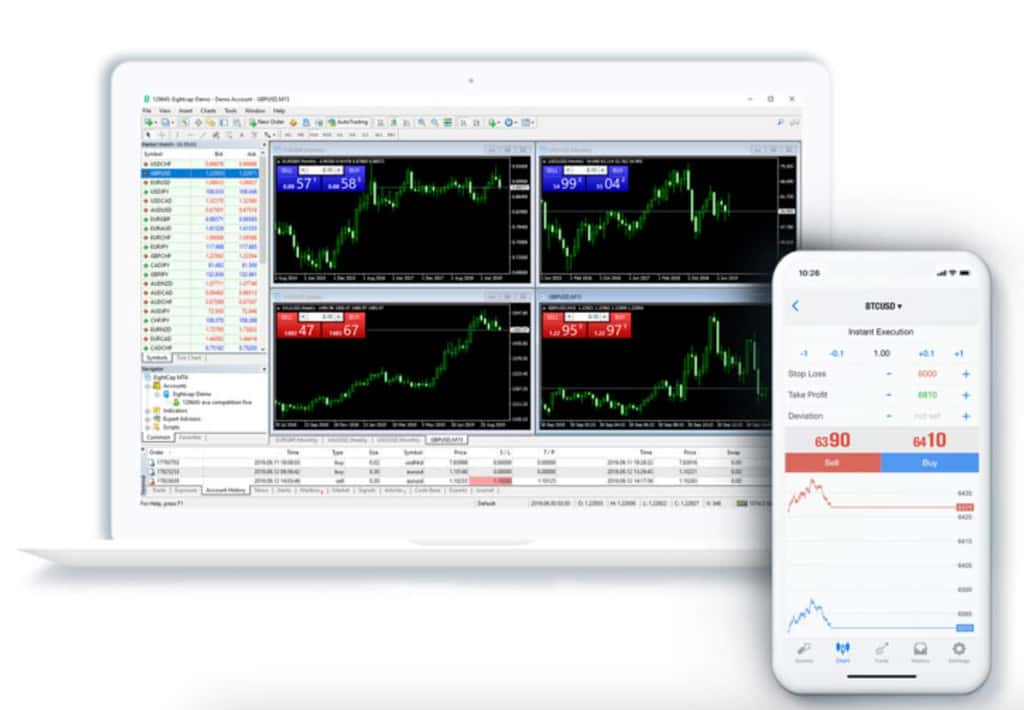 Moreover, EightCap provides additional tools to enhance your trading experience. One of these tools is Capitalise.ai, a popular automated trading platform. It allows you to give trading instructions in a simple and intuitive manner, making it ideal for those interested in automated trading without requiring programming knowledge. The best part is that you can create both simple and complex trading algorithms for free.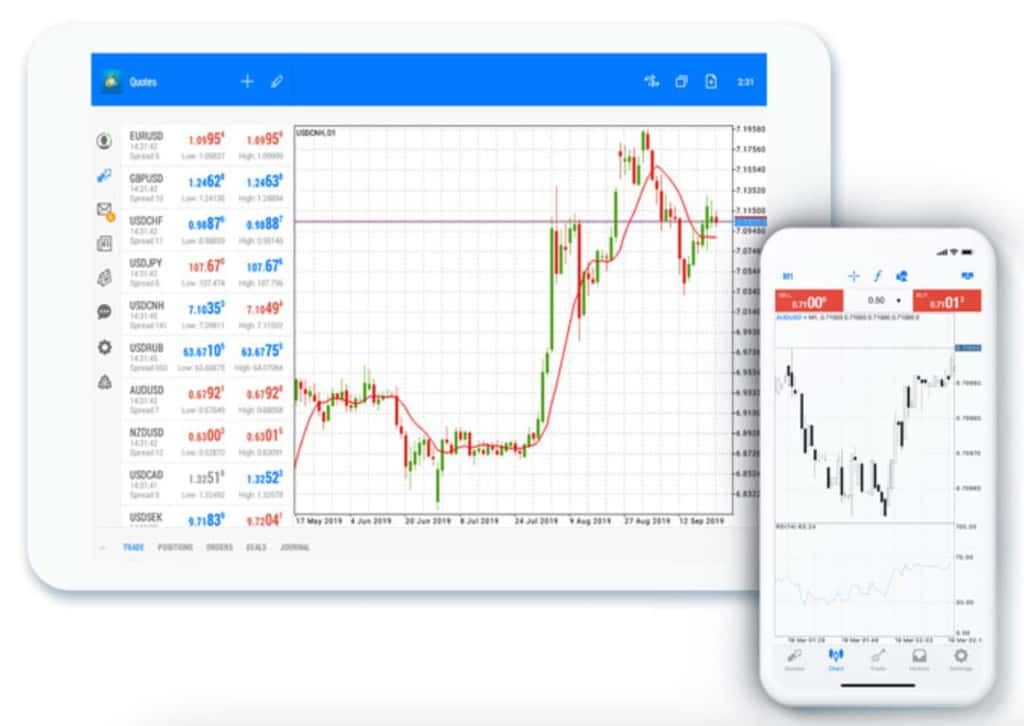 Additionally, you can integrate TradingView with your trading account, enabling you to create charts tailored to your investment strategies. TradingView offers more than 15 customisable charts. You can work with up to 8 charts per tab, ensuring synchronised symbols and time intervals. The platform also offers 50 intelligent drawing tools.
Eightcap review: mobile app
EightCap offers mobile apps for both the MT4 and MT5 platforms. These apps provide similar features to the desktop platform, allowing you to trade and monitor your investments 24/7, from anywhere. However, it's worth noting that trading on small screens may be somewhat challenging, especially when dealing with charts and indicators. You can easily download the app from the Play Store after obtaining your MT4 and MT5 credentials.
Depositing funds with Eightcap
To start trading, you need a minimum deposit of £100 in your trading account. EightCap offers various deposit methods, including bank transfers, credit cards, debit cards, PayPal, cryptocurrencies, and other instruments like Fasapay, Neteller, and Skrill.
Importantly, there are no transaction fees for deposits, and most deposits are processed instantly, except for bank transfers, which may take up to 3 days. Before making deposits, you'll need to upload your identification documents to verify your identity.
How to open an account with Eightcap
Opening an account with EightCap is a straightforward process that only takes a few minutes. You'll need to provide basic information such as your email, country of residence, name, and password. After registering, you can customise your account settings to suit your trading preferences.
Eightcap demo account
EightCap offers a demo account that allows newcomers to the world of online trading to familiarise themselves with the dynamics of investing using virtual funds. Users have access to 5 million virtual funds, simulating real trading conditions. The default duration for the demo account is 30 days, but you can request an extension.
Eightcap review: training and education
Eightcap offers its registered users countless training opportunities and educational resources, such as webinars and detailed e-books for anyone who is new to the world of trading or simply wants to explore certain topics in more depth.
Customer service
The customer service experience with EightCap, based on both our assessment and user feedback, is positive. You can contact their customer service through three communication channels: phone, email, or chat.
Eightcap reviews: user opinions
We have examined user opinions regarding EightCap, and it's evident that the broker has received favourable feedback from its users. This reflects positively on their service and reliability.
Eightcap review: advantages and disadvantages
Now, let's summarise the key advantages and disadvantages of trading with EightCap in a concise table:
| | |
| --- | --- |
| Advantages | Disadvantages |
| Offers both Metatrader 4 (MT4) and Metatrader 5 (MT5) platforms with a range of tools and indicators | Limited options for commodities, indices, and Forex compared to some other brokers |
| Access to a wide range of financial instruments | Limited duration of demo account (but extendable) |
| Competitive cost structure ideal for both beginners and experts | Limited choice of commodities |
| Offers webinars and detailed e-books for traders looking to enhance their skills | Minimum deposit limit |
| No inactivity fee | |
Find out more about other brokers
FAQ
Is Eightcap suitable for beginners in online trading?
Yes, Eightcap is suitable for beginners. They offer a Standard account designed specifically for those new to trading, with no commissions and a minimum spread starting from 1 pip. Additionally, their user-friendly platform and educational resources make it accessible for newcomers.
What sets Eightcap apart from other brokers?
Eightcap's standout feature is its integration with Capitalise.ai, which enables traders to engage in automated trading without any programming knowledge. This feature makes it an excellent choice for traders interested in automated strategies.
Are there any fees for depositing funds into my Eightcap account?
No, Eightcap does not charge transaction fees for deposits. They offer a range of deposit methods, including bank transfers, credit/debit cards, PayPal, and cryptocurrencies, with immediate processing, except for bank transfers, which may take up to 3 days.
Related Articles
DEGIRO vs ActivTrades
If you're in search of a broker, you've probably come across DEGIRO and ActivTrades as potential options. In this DEGIRO vs ActivTrades article, we will compare both brokers and examine the products they offer, the markets they operate in, their c...