eToro review: copytrading, features, and assets
Author
Luis Angel Hernandez
Luís began his professional career at BBVA and then moved to Rankia, where he furthered his education in financial markets. He has written more than 1,000 articles on financial education, investment funds and ETFs. He also heads the editorial boar...
Full Bio
eToro is particularly renowned for its main feature: social trading. With this feature, users have the opportunity to copy the best traders' and investors' portfolios without possessing extensive knowledge of the market. Moreover, it charges zero commissions on stock and ETF transactions.
Founded as a startup in Israel in 2007, eToro now has more than 20 million users from all around the world. In this in-depth eToro review, we will have a look at the brokers' offerings in the United Kingdom and everything you should know to decide if this is the best broker for your needs.
eToro: reviews and opinions
The users' opinions on the eToro broker are overwhelmingly positive. Out of nearly 20,000 reviews, the rating stands at 4.4.
The most appreciated features of eToro are customer support, the intuitive platform, and the possibility of copy trading.
How does eToro work?
In this table, we summarise some of the key features of this broker, which we will examine in detail throughout this eToro review:
| | |
| --- | --- |
| 🌎 Regulation | United Kingdom, Cyprus, Australia |
| 💲 Supported Currency | Dollars |
| 💰 Commissions | $0 |
| 💰 Minimum Deposit | $50 |
| 💵 Inactivity Cost | $10/Month |
| 💵 Withdrawal Cost | $5 |
| 📈 Products | Real Stocks and ETFs, CFDs on forex, stocks, funds, commodities, indices |
| 🕹️ Demo Account | Yes |
What is eToro?
The initial feature introduced by this broker was online trading in the forex market. In 2009, the company launched its user-friendly trading platform called WebTrader, with the aim of assisting beginner traders by equipping them with the necessary financial tools.
Subsequently, it expanded its product offerings to include real stocks and ETFs (limited to companies listed on the Milan Stock Exchange, with only CFDs available for stocks). Since 2017, there has been significant growth in cryptocurrency trading on the eToro online trading platform. However, it's important to keep in mind that cryptocurrency derivatives (including CFDs on crypto) are not allowed in the United Kingdom.
Additionally, eToro offers the option of social trading, which can be beneficial for individuals who lack the time and/or sufficient experience in financial markets to trade independently. This feature allows users to copy the portfolios of top investors and traders and replicate all changes automatically and in real-time.
eToro offers trading to Twitter users
Since April 2023, the eToro social investing platform has been providing stock trading, cryptocurrency, and other assets directly to Twitter users, thanks to a partnership with the social media company. This feature offers Twitter users real-time prices of cryptocurrencies, stocks, and other assets, and directs them to the eToro platform for investment purposes.
Previously, Twitter users who searched for the $Cashtag symbol only had access to real-time price charts for a limited selection of financial assets, but the collaboration with eToro has significantly expanded this offering. Since Twitter incorporated price data for $Cashtags in December 2022, the social media platform has recorded 420 million searches, with the top five searches including Tesla ($TSLA), Bitcoin ($BTC), and SPDR S&P 500 ETF ($SPY).
The expansion of $Cashtags aligns with the plans of Twitter's owner, Elon Musk, to integrate financial services into the platform as part of his vision to create a "super-platform".
Is the eToro broker safe?
Trading with eToro is considered safe due to its status as a trustworthy broker, being subjected to numerous international regulations. It is regulated by esteemed authorities such as the Financial Conduct Authority (FCA) in the United Kingdom, the Cyprus Securities and Exchange Commission (CySEC), and the Australian Securities and Investments Commission (ASIC).
Is there a guarantee fund?
No, eToro's clients are not protected by the banking depository compensation scheme (e.g., the FSCS in the UK) in case of bankruptcy. However, all funds are held by eToro Money, which protects clients' funds in case of bankruptcy.
Open an account on eToro step by step
Go to the eToro website to start the account opening process:
Click to create a new account and add your data (such as your email address, nickname, and create a password). You can also create an account using your existing Google or Facebook account.
Validate your account by uploading your personal ID and proof of address.
Complete the risk assessment questionnaire.
Which base currency to choose?
eToro has 1 base currency available, USD. You may have to pay a conversion fee if:
you trade with assets not in USD
you make a deposit/withdrawal in a currency other than USD.
Once the form is filled out, the documents are uploaded, the type of account is chosen, and the survey is completed, eToro will verify your account and you can start placing your orders right away.
eToro demo account
eToro offers two simple types of accounts: a live account and a demo account, where you can test the platform with virtual money. The demo account offers $100,000 in virtual funds.
How to deposit money on eToro?
There are multiple deposit methods available for customers to use with the broker. However, we recommend using a method that you frequently use, as it will be convenient when you wish to make withdrawals as well. It is important to note that the deposit and withdrawal methods should be the same.
Here is a table with processing times and the different deposit methods available on the eToro platform:
| | |
| --- | --- |
| Service Provider | Time required to receive funds |
| Credit Card | 3-8 business days |
| Neteller | 1-2 business days |
| Paypal | 1-2 business days |
| Skrill Limited UK | 1-2 business days |
| Bank Transfer | 3-8 business days |
Minimum deposit eToro
The minimum deposit varies from country to country – in the UK, the minimum deposit is $50. Exceptions are bank transfers (which must amount to at least $500) and corporate account registrations (in this case the required deposit is $10,000).
eToro: markets and products
From the perspective of available investment assets, eToro offers a diverse range of options to choose from, including stocks, commodities, cryptocurrencies, currencies, indices, and ETFs. Each asset class possesses its unique characteristics and can be traded using various investment strategies.
On eToro, some positions involve the direct purchase of assets, such as long positions without leverage on stocks, ETFs, and cryptocurrencies. Conversely, other positions involve Contract for Difference (CFD) trading, which provides additional options such as leveraged trading, short positions, fractional ownership, and more.
Stocks: eToro makes available to its users more than 2,700 stocks in 17 different markets. This variety of stocks has expanded over time and will almost certainly continue to grow. You can trade in markets ranging from the United Kingdom, the United States or Europe to Japan and even Saudi Arabia.
ETFs: Investing in ETFs on eToro by opening a long position without leverage means that you are investing in the actual asset and that the ETF is bought and held in your name. However, eToro also provides additional features through CFD trading. Some of the most popular ETFs on eToro are SPY, TLT, HMMJ, QQQ, and TQQQ.
Indices: The indices available are also traded via CFDs, offering the possibility of using leverage and short-selling. The most relevant ones are the Nasdaq, the DAX and the S&P 500, among others.
Commodities: Commodities are only traded as CFDs, which offer various investment possibilities. On eToro, you can trade with more than 30 different types of commodities, including gold, oil, silver, sugar and others.
Forex: Currencies are only traded via CFDs that allow you to go short or use leverage. There are more than 50 currency pairs. Some of the most popular ones are EUR/USD, USD/JPY and EUR/GBP.
Cryptocurrencies: Cryptocurrencies are also available on eToro, but UK residents can only buy or trade real assets (crypto derivatives are not allowed). Learn more
What are the costs of eToro?
eToro has a zero-commission, variable cost structure. While there are no commissions, each asset's price on the platform includes the spread – a variable cost. The spread is essentially the difference between the buy and the sell price. eToro has mid-range spreads – for instance, the spread on the EUR/USD pair may be 1 pip, while other brokers may offer lower spreads, some starting at 0.1-0.4 pips.
Buying stocks and ETFs comes with zero commissions: there are no management or other fees if you open a long, unleveraged position, which means that you buy the real asset. The spread is built into the price shown on the eToro platform.
If you want to open a short position and/or use leverage, you will use CFDs. In this case, apart from the spread, you may have to cover the overnight fee (swap) if you leave your CFD positions open for more than one trading day.
As we have seen, many if not all products can be purchased through this popular instrument. Trading CFDs on eToro, along with many advantages, also brings a whole series of additional fees. Generally, it is 0.06% daily + 0.19% weekend.
Finally, buying and selling crypto comes with an additional 1% fee which is already included in the price shown on the platform (added to the spread).
| | |
| --- | --- |
| Name | Type of Fee |
| Crypto rate | Exchange rate of the cryptocurrency on which you are trading |
| Blockchain fee | Transaction registration fee on blockchain |
| Crypto-to-Crypto conversion fee | 0.1% |
Finally, there is a conversion fee, which depends on your payment method (i.e., if you deposit GBP, it will be converted into USD in your trading account). The inactivity fee of $10 per month applies only if your account is dormant for at least 12 months. When withdrawing money, you need to pay a fixed fee of $5 and you can withdraw a minimum of $30.
eToro platform reviews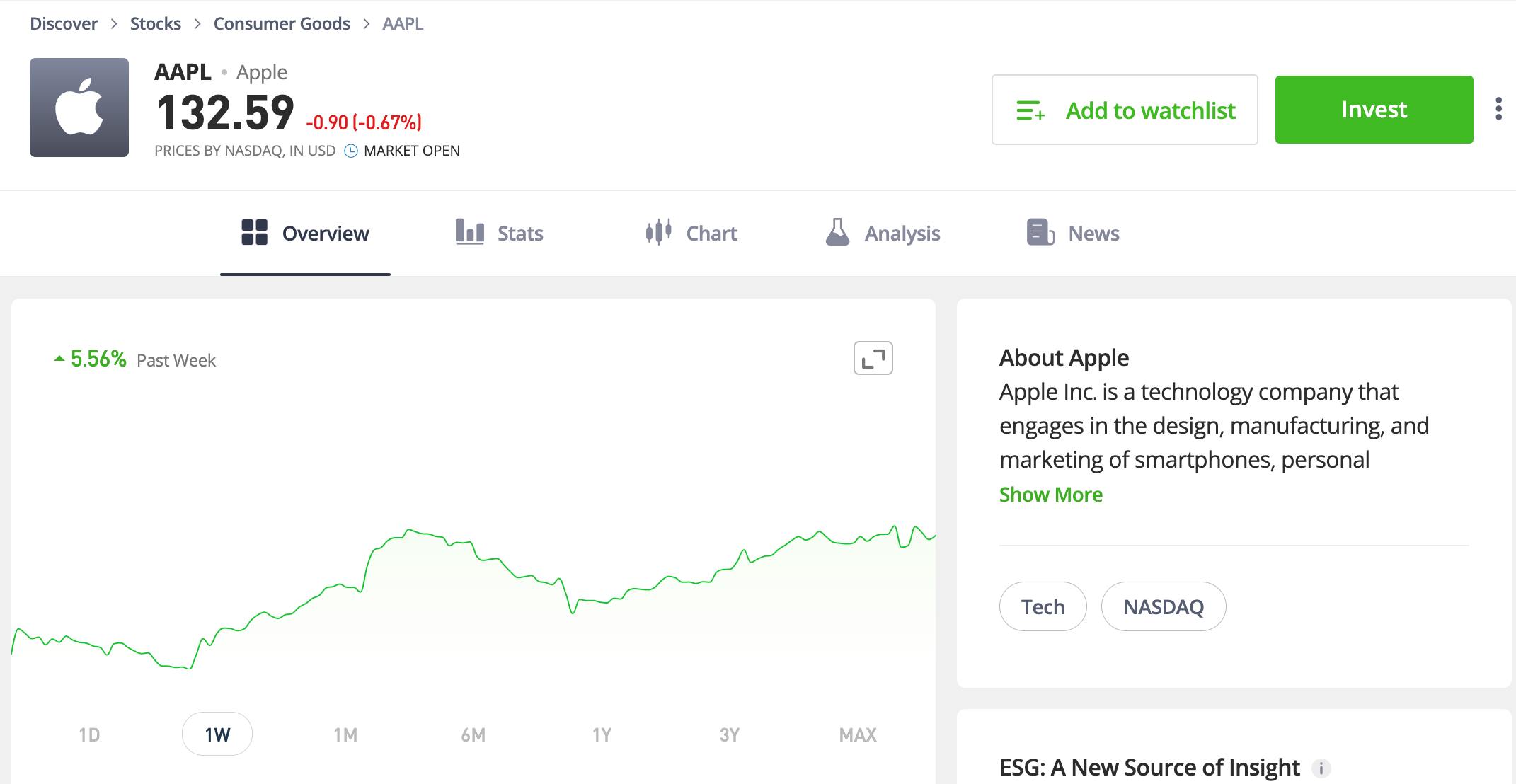 The broker offers the eToro browser-based platform and a mobile app, both of which are highly regarded for their user-friendly nature, catering to professionals and newcomers alike. The web platform enables users to access features directly through their browser without the need to download external applications.
On the other hand, the mobile app can be effortlessly downloaded from the app store, providing the convenience of monitoring your operations on the go and receiving customisable notifications.
Leverage on eToro
Leveraged operations refer to the ability to invest more funds than what you currently have by borrowing a portion from the broker (in this case, eToro). However, it is important to note that there are several regulations in place to protect users, as leverages can lead to significant gains but also substantial losses. We strongly advise you to exercise caution and avoid using excessively high leverages to prevent adding unnecessary risk to your portfolio.
Below, you can find the maximum leverage for each asset type:
30:1 for major currency pairs;
20:1 for minor currency pairs, gold and major indices;
10:1 for commodities other than gold and minor stock indices;
5:1 for stocks and ETFs.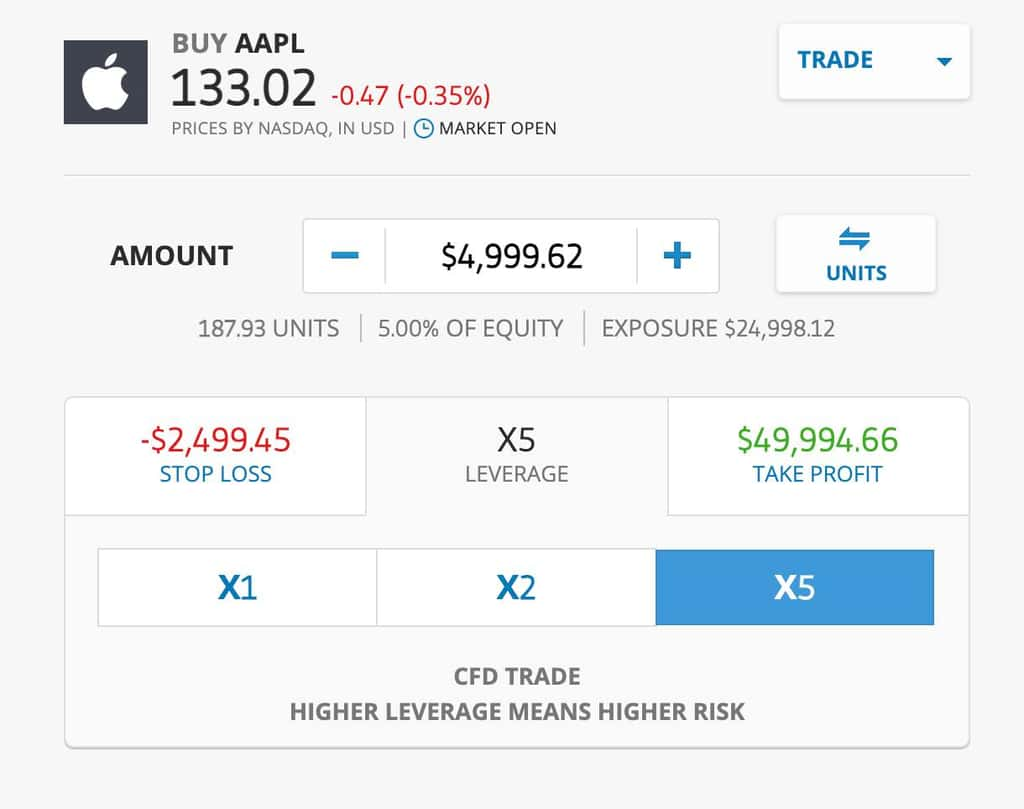 We would also like to provide several examples of leveraged transactions to assist you in gaining a better understanding of how they work:
| | | |
| --- | --- | --- |
| Invested amount | Leverage | Transaction value |
| $50 | 1:20 | $1,000 |
| $200 | 1:30 | $6,000 |
| $400 | 1:10 | $4,000 |
eToro: social trading tools
Social trading and copy trading eToro
eToro's copy trading feature enables investors to replicate the transactions and trading strategies of master traders in real-time. In simple words, the platform displays the most successful traders and investors, a description of their strategy, risk, and objectives, and you can choose to copy their entire portfolio with a set amount of money (typically $200 or more). If the trader makes changes to the portfolio composition, yours will be adjusted automatically. This way, your portfolio's risk and returns will always remain the same as the master trader's.
It's important to know that you don't need to invest as much as the master trader. The copied portfolio will be invested in the same proportion only (for instance, 5% in Facebook shares, 10% in indices, etc.), so you can invest any amount, provided it's higher or equal to the minimum investment listed by each master trader or investor.
Clients have access to the portfolios, trading history, risk ratings, and success/failure ratios of each master trader or investor. This is a distinctive feature of the platform. There are no management fees associated with replicating the trades of other eToro traders.
However, it is essential to exercise caution when determining the amount to invest and to diversify across various low-risk expert investors or traders. It's important to note that the risk of copying operations is never zero, and if the investors you copy incur losses, you will experience the same. The key lies in researching and identifying the right master traders or experts to copy.
How to copy eToro traders
To copy a trader on eToro, you just have to register on the platform and follow these steps:
Choose a trader: you can choose based on performance, assets, objectives, etc.
Choose an amount: decide the amount you want to invest and it will be distributed automatically.
Click on the "copy" button.
Smart Portfolio
Previously called CopyPortfolio, the eToro smart portfolio is one of the most advanced products that can push copy trading to new levels.
There are three types to choose from:
Top Trader Copy portfolios, created directly by eToro, are CopyPortfolios.
The Market Copy Portfolios are created on specific themes or sectors.
Partner Copy Portfolios are created by partners other than eToro, by investment companies or by independent entities.
This new method of thematic investment is designed by eToro itself to help its customers diversify their investment portfolios with minimum knowledge and capital, minimise long-term risks and take advantage of market opportunities.
Copy Trader eToro: Popular Investor
This program, exclusive to this broker, rewards investors who share their knowledge and rewards them. Each Popular Investor can receive monthly payments, a spread discount of up to 100% and an annual payment of up to 2.5% for their managed assets (AUM).
eToro divides its best traders into 4 different categories indicated with a star at the bottom right of the user's profile image, based on certain prerequisites:
These will receive a whole series of advantages:
eToro: other tools
While it is true that there may be more advanced tools available in the market, the secondary features offered by eToro are completely free for all users. Therefore, we believe it is worthwhile to give them a try before making a decision. Here is a brief overview of some of the most popular features.
Research and analysis
The search function located in the left menu enables you to easily locate the products you wish to trade. They are categorised based on various criteria such as assets, daily gainers/losers, and recent additions.
Alternatively, you can use the search bar at the top to directly search for any specific instrument. The search bar allows you to look up a product by its name or ticker. Additionally, you can also search for a trader or portfolio to replicate.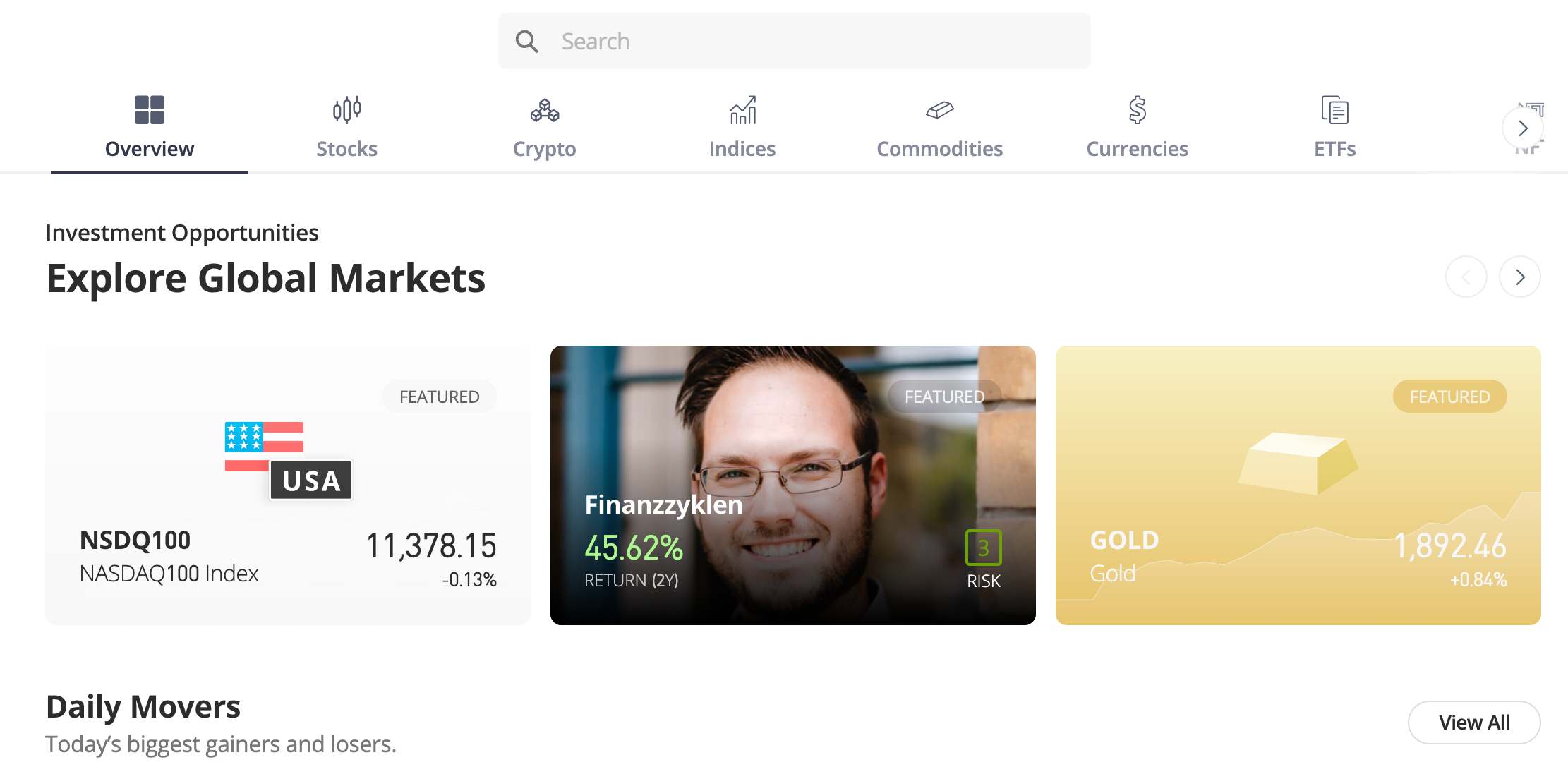 Economic calendar
The economic calendar displays the most important upcoming events, including economic releases (such as CPI data), earnings reports, dividend payments, and others.
Push notifications
If enabled, these notifications will ensure that you are consistently informed about your portfolio and the companies on your watchlist. Moreover, the app frequently sends notifications regarding the top Popular Investors to replicate or newly released Copy portfolios. In essence, this feature is incredibly beneficial, particularly for beginners who may feel uncertain about investment choices.
eToro UK: how to pay taxes
Will I be taxed if I trade with eToro? The answer to this crucial question is yes, as with any other investment; so, how do you pay taxes with eToro?
Is eToro a withholding agent?
eToro UK puts forward the eToro Tax Report, which is structured according to the guidelines in the UK. This can be used to complete your self-assessment, but if unsure, it's always recommended to consult a tax advisor.
eToro customer service
We are aware, particularly through reviews and user feedback, of the significant assistance provided by customer service, especially for newcomers to the platform. The company excels in this aspect by offering multiple avenues to reach the customer service team, which is consistently responsive, knowledgeable, and readily available to assist via:
Support chat: there is a live chat on the platform for all customers (24/7).
Support ticket: this feature available to eToro users allows you to send a message directly to the platform's customer service. This is a great alternative for problems that do not need an immediate response (which usually takes place within 24 hours).
eToro reviews: pros and cons
| | |
| --- | --- |
| 👍 Main advantages | 👎 Main disadvantages |
| Copy trading | Spreads are quite high (particularly on forex) |
| Clear and understandable platform | Withdrawal fee of $5 |
| Multiple assets to choose from (both real and CFDs) | Platform is not customisable |
| No commissions | No advanced analysis tools |
| Low minimum deposit ($50) | GBP not as a base currency (currency conversion fees apply) |
How does eToro compare with other brokers?
eToro review: summary
In conclusion, our assessment of eToro is positive. The broker offers several notable advantages, such as the opportunity to engage in social trading through exclusive financial products like copy trading and smart portfolios. This advantage is particularly valuable for those looking to invest their savings while simultaneously learning from observing the best traders. Additionally, the blog provides a wealth of interesting ideas, and the ability to trade from mobile devices is a convenient solution for those on the go. Both platforms, as previously mentioned, are user-friendly and intuitive.
However, it is important to acknowledge the reported disadvantages, some of which have been highlighted in negative reviews. While overall costs remain relatively low, the spreads for opening long or short positions are considered somewhat high. The available tools, particularly for forex trading, are limited, and many charts are deemed too simplistic, which hinders effective technical analysis. Improving this aspect is crucial, as charts are a fundamental tool for both traders and users.
Overall, eToro presents significant advantages but also areas for improvement.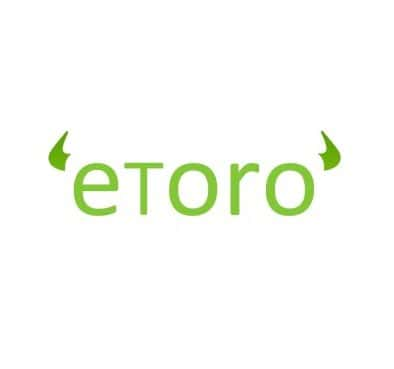 To summarise, eToro is a standout broker known for its extensive range of products, competitive costs, reliable social trading platform, and strong regulatory compliance. While the broker has some shortcomings, it is still worth considering and trying out. Alternatively, you may want to check the best copytrading brokers or the best brokers to trade CFDs.
eToro FAQ
Where is eToro headquartered?
eToro is located in Central Israel and has multiple offices around the world, including the UK, Cyprus, and Australia.
How long does it take to withdraw money on eToro?
The average time for a withdrawal is 1-2 business days.
How long does it take to verify your eToro account?
Typically, the verification process is instant, but make sure your documents are valid.
How safe is eToro?
eToro is a safe broker, regulated by multiple authorities around the world, including the UK.
What happens if eToro fails?
This depends on the terms and conditions (or terms of service) that you accepted when you registered with eToro. Keep in mind that not all users are subject to the same T&C, so make sure to read them with the right company (e.g. eToro UK Ltd.).
In case you are trading real stocks and these are in your name, you will be able to liquidate these stocks. Keep in mind that this only applies to real stocks and not to derivatives which are CFDs (contracts for difference). CFDs are traded based on the performance of an asset, so you actually don't own any assets.
Also, eToro keeps clients' funds separately, so in case of bankruptcy, all your funds will be returned to you.
How much can you make with eToro?
The Popular Investor program is an incentive for eToro users to trade responsibly and be an active part of the community. As soon as you start to get good results on eToro, you will notice that other people will start to copy you. This allows you to earn monthly commissions as your followers increase. It is also useful to be active in the community. Posting regular updates, participating in discussions and answering other people's questions helps to get your name out there and generate interest.
How many people use eToro?
In 2021, the company reported operating in 140 countries and having 20 million users.
How are taxes paid on eToro?
It is necessary to calculate and pay taxes applicable in the UK. For example, you may have to pay tax on capital gains, dividends, or other sources of income, depending on your trading and investing activity. You may want to consult a tax advisor if unsure.
Is it worth investing with eToro?
eToro excels in the areas of social copy trading and cryptocurrency trading, making it an excellent choice for investors seeking those features. Its user-friendly web platform and mobile app make it particularly convenient for occasional investors and beginners.
How can I withdraw funds from my eToro account?
Simply follow these steps:
1. Log in to your eToro account.
2. Click on "Withdraw Funds" from the left-hand menu.
3. Enter the desired withdrawal amount.
4. Choose your preferred withdrawal method.
5. Fill in the required details for the chosen method.
6. Review the withdrawal details and click on "Submit."
Related Articles
DEGIRO vs ActivTrades
If you're in search of a broker, you've probably come across DEGIRO and ActivTrades as potential options. In this DEGIRO vs ActivTrades article, we will compare both brokers and examine the products they offer, the markets they operate in, their c...